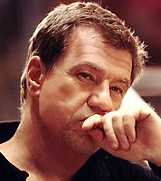 News reports say federal Judge Dale Fischer on Monday allowed the Die Hard and Hunt For Red October helmer John McTiernan to withdraw his guilty plea to lying to the FBI about the Pellicano scandal that involved Hollywood wiretapping. Immediately, assistant U.S. Attorney Dan Saunders, who prosecuted the Pellicano cases, said at the hearing that a new indictment against McTiernan would be forthcoming. A March 23rd hearing is set. The 58-year-old director requested the plea withdrawal on grounds he had inadequate legal representation and was jet-lagged and under the influence of alcohol when he agreed to it back in 2006. The charge of perjury against him claimed he paid Pellicano to illegally wiretap film producer Charles Roven over 2002′s Rollerball, and then lie to the FBI about it. In October, the U.S. Court of Appeals for the Ninth Circuit vacated McTiernan's 4-month prison sentence and ruled that he was entitled to a hearing on whether he could withdraw his plea. Pellicano has been sentenced to 15 years in federal prison.
Editor-in-Chief Nikki Finke - tip her here.
Get Deadline news and alerts FREE to your inbox...